Have leftover stuffing? Cranberry sauce? Turkey? Cheese platter ingredients? Here are 4 delicious recipes to help you use up those Thanksgiving leftovers! Here's Maya's recipes from the show!
Turkey Cranberry Pizza
1 pound pizza dough
3/4 cup cranberry sauce
2 T. BBQ sauce
1 cup turkey, diced or shredded
1 1/2 cups Monterey Jack cheese, shredded (mozzarella, fontina, or smoked gouda may also be used)
3 T. red onion, thinly sliced
2 T. cilantro, chopped
Preheat oven to 450 degrees and spray a baking sheet or pizza stone with cooking spray.
Roll out the pizza dough on the pizza stone or baking sheet and set aside.
In a small bowl stir together the cranberry sauce and BBQ sauce.
Spread half of the sauce onto the pizza and add the diced turkey to the other half, stirring until the turkey is completely coated.
Top the pizza with the cheese, turkey, and sliced red onion.
Bake the pizza for 10-12 minutes or until the crust is golden and the cheese is bubbly.
Remove the pizza from the oven and top with the chopped cilantro.
Cheese and Kind Bars
Leftover Stuffin Muffins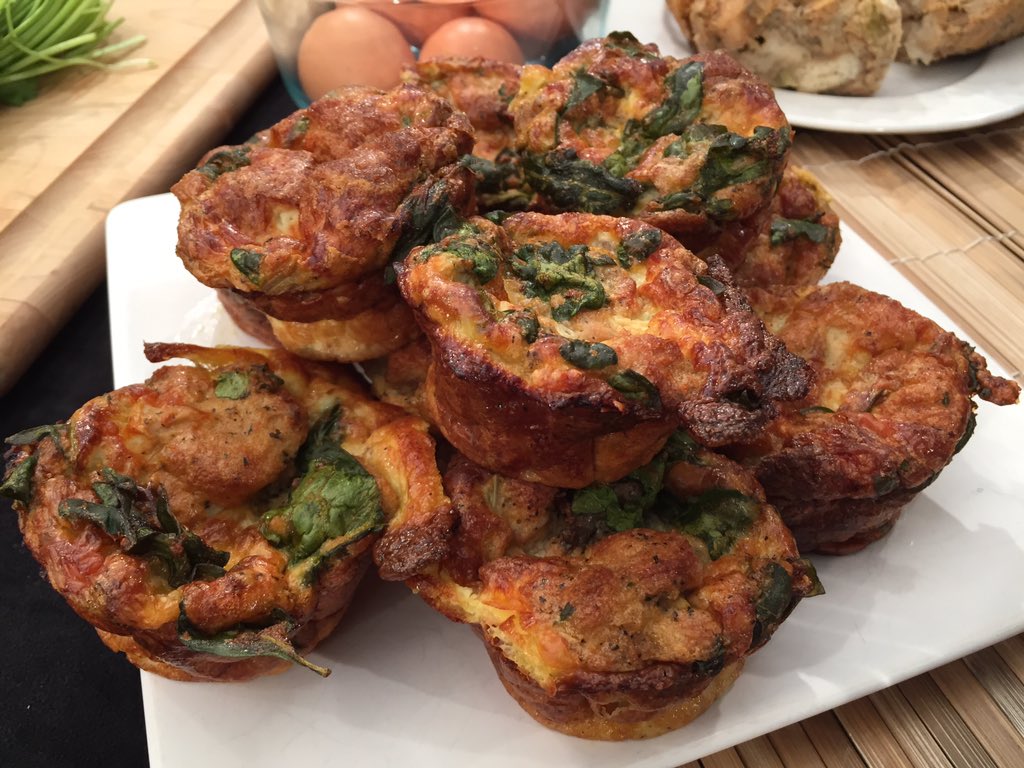 Leftover Stuffin Muffins
3 cups precooked stuffing or dressing
1 cup chopped turkey or ham
¼ lb. frozen spinach
6 large eggs
2 Tbsp milk or cream
¼ tsp salt
Freshly cracked pepper
Preheat the oven to 375 degrees. Thaw and squeeze the spinach dry. Add the stuffing, turkey, and spinach to a bowl, then stir lightly to combine without breaking up the stuffing too much.
Liberally coat each well in a muffin tin with non-stick spray (or butter). Divide the stuffing mixture between all 12 cups. Leave the stuffing loosely packed in the cups so that the egg mixture can fill in the empty spaces.
In a medium bowl, whisk together the eggs, milk, salt, and pepper. Divide the egg mixture among the 12 cups, filling each about ½ to ¾ full. The eggs and stuffing mixtures will expand during cooking, so try not to over fill.
Bake the muffins for 25-30 minutes or until lightly golden brown and crispy on the top. Allow the muffins to cool slightly, then run a knife around the edges to loosen and remove each muffin.
NOTES
Make sure to coat well with non-stick spray or butter. These muffins will stick to the tin if not well oiled.
Feel free to get creative with the add-ins. Roasted vegetables, cheese, or other meat make great additions.
Turkey, Kale, and Brown Rice Soup
2 tbsp. extra-virgin olive oil
5 large shallots, chopped
3 medium carrots, peeled and cut into ½-inch pieces
1 large red bell pepper, cut into ½-inch pieces
8 oz. ground white turkey meat, broken into small chunks
1 tbsp. herbes de Provence
5 cups low-sodium chicken broth
1 (15-oz.) can diced tomatoes, drained
1 cup cooked brown rice
1 small bunch (4 packed cups) kale, center ribs removed, leaves coarsely chopped
½ tsp. freshly ground black pepper
1 tsp. salt, divided
¼ cup chopped fresh flat-leaf parsley leaves
¼ cup grated Parmesan cheese
In a large pot over medium-high heat, heat oil, then add shallots, carrots and bell pepper. Stir frequently until vegetables begin to brown and soften slightly, 8-10 minutes.
Add turkey and stir until the meat turns white and begins to color very slightly around the edges, 5-7 minutes. Add herbes de Provence and stir for 1 minute.
Add broth, diced tomatoes and cooked rice, and bring to a boil. Stir in kale, then season with black pepper and ¼ tsp. salt.
Reduce the heat to medium-low. Cover and simmer until vegetables are tender, about 15 minutes. Season with the remaining ¼ tsp. salt.
Ladle the soup into bowls. Sprinkle each serving with parsley and Parmesan cheese.